Quest of the Keys was written to teach young adults the importance of developing personal character and life skills; learning that aligns perfectly with the needs of today's classroom environment.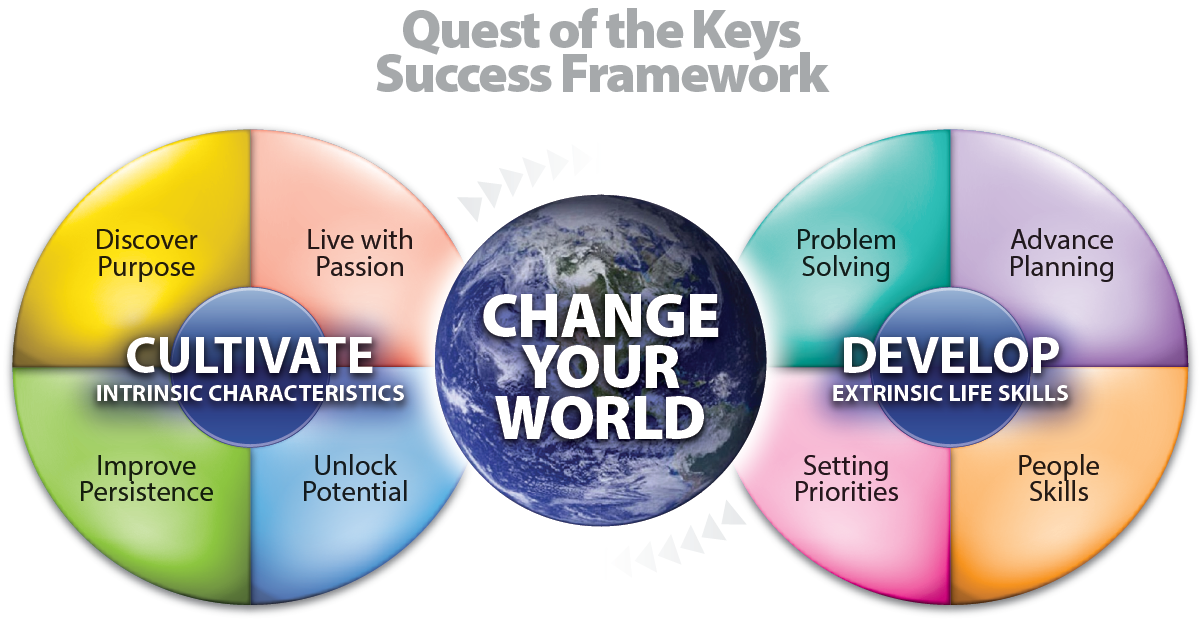 Today's society bombards youth with information they are often not prepared to understand or act upon with wisdom and experience. Parents and educators are struggling to combat the negative impact media and technology has on children and young adults.
Opening the door to engaging conversations that offer our youth truly valuable life skills is the first step in equipping them with strategies and knowledge for positive personal growth. The challenge is how to fit such critical instruction into the regular school day.
Quest of the Keys is a book that answers the challenge and changes lives forever.
Quest of the Keys is an adventure into self-development for students. Whether implemented on its own, or integrated into other curricula, Quest of the Keys easily correlates to your existing school standards by utilizing the tools and systems you've already developed.
Unlike traditional character education curricula that are dry and unengaging, Quest of the Keys is written for today's youth.
Quest of the Keys takes students on a fantasy adventure with relatable characters who encounter challenges of character and overcome them, just like kids do. The story teaches important character principles by engaging students, pulling them into to the story and leading by example.
Quest of the Keys uses inspirational messages to powerfully illustrate positive character in action. The curriculum for each identifies "hero" role models, examines how their actions demonstrate Positive Character Traits, and invites participants to consider the impact of the actions on the hero and those interactive activities put the lessons into practice.
Eight character traits (purpose, passion, priorities, planning, potential, problem solving, persistence, people skills) are examined, discussed and applied through carefully designed guided group discussions, individual and group activities, and thought-provoking writing projects.
The Quest of the Keys program incorporates character development and ethics curriculum, social and emotional learning, literacy and comprehensive teacher training.
Quest of the Keys makes use of a range of pedagogical strategies to teach and reinforce positive character. The program includes direct teaching, interactive participation activities such as peer discussions, role-playing and modeling positive behavior.
Lead your students on an engaging and entertaining journey of personal growth, continued learning, responsibility, leadership development, integrity, honor, and clear purpose in life; as they begin their own, Quest of the Keys.
Contact us to learn more about bringing Quest of the Keys to your classroom